Hi! My name is Jody Carbone. I am a concert and nature photographer located outside of Charlottesville, Virginia. Most of my life I've been surrounded by talented friends and fine music, and I've absorbed with a passion the wonderful opportunity of documenting performers who entertain us with their talent. With a combined love for both music and people my goal is to bring the concert, festival, club or event experience to you in these images, and to preserve memories for the performers themselves.
My nature photography evolved from a love of animals and the outdoors, and a good portion of adulthood spent traipsing about forests in and around national parks. Walking a remote path many years ago a keen interest in mushrooms and other fungi was born; a fascination with the diversity of genera and species, and the welcome challenge of mycological study for identification of the various species encountered, both for food and curiosity. The Nature Photography section of these pages will evolve into a medium for both images and information, passing on what I know of these fascinating elements of the Fungi and Animal Kingdoms.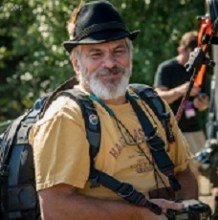 Copyright © 2013-2018 Jody Carbone. All Rights Reserved.
All photographs appearing on this site are the property of Jody Carbone.
Protected by U.S. Copyright Laws, these images are not to be downloaded or reproduced in any way without express written permission from Jody Carbone.